Modern logistics parks have been instrumental in growth of the ports they are associated with. An Integrated Logistics Park (ILP) is an integrated planned infrastructure for facilitating intermodal logistics that are usually located near primary production &/or consumption centers & major logistics gateways, coupled with Commercial real estate usage.

The main features of ILP are: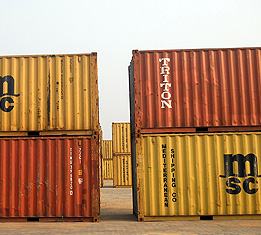 • Provide Hinterland connectivity, extended arm for Port Facility,
• Provide efficient transport from Gateway Terminal to CFS/ICD,
• Facilities for smooth EXIM handling operation,
• Facilitation of Custom Clearance Formalities,
• Ancillary support service,
• Trade facilitation infrastructure.

Core logistics facilities
• CFS/ICD with Container Yard, • Warehouse (EXIM / BONDED / DOMESTIC), • Covered sheds & Open storages Truck Terminal, • Admin building

Logistics support infrastrucutre
• Fuel & Service Station, • Electronic Weigh bridge (100MT Capacity), • Container & truck repair service with spare part stores, • Equipment & Trade finance, • Insurance & Banking, • Drivers' Amenities

Infrastructure Facilities
• Power, Water & Sewerage connections, • Fire Fighting, • IT Infrastructure, • Compound wall, • High mast lighting, • 24 hour security with CCTV, • Green belt, • Wide Roads

Support facilities
• Offices for logistics and trading companies, • Exhibition/ Convention/Conference centre, • Hotel accommodation, • Food courts, • Entertainment/recreation facility, • Residences for workers
Services
• Container Freight Station with EDI Connectivity, • Inland Container Depot, • Warehousing (EXIM / BONDED / Domestic), • Empty Storage & EMR facility.
Infrastructure at Logistics Park (Haldia & Kalinganagar)
• Total Area – 90 Acres at Haldia & 30 Acres Kalinganagar, • Paved Area earmarked for Storage of Empty Containers, • Empty Storage Yard can accommodate more than 10000 TEU's at any point of time, • Clean and Dust Free Storage, • Uninterrupted Power Backup Supply with dedicated Generators, • High Boundary Wall all around the Area with High Mast Lighting, • Well Ventilated Covered Godowns with Dock Levellers, • Total CFS/ICD is well illuminated coupled with Round the clock security, • Modern Office Building with Latest Communication Facility, Custom Office with EDI Connectivity and Officers deployed
List of Container and Cargo Handling Equipment
• Reach Stackers 45MT Capacity, • Fork Lifts (3MT / 5MT / 10MT / 20MT / 30MT) Capacity, • Hydras 15MT Capacity, • Cranes for Bulk Cargo Handling 50 MT, • Electro Magnets & Orange Peel Grabs for Handling Metal Scrap, • Dedicated Trailers for movement of Cargo from Port to CFS/ICD, • Trailers 20ft and 40ft (HBT, LBT and SLBT)
Repairs and Maintenance
• Qualified repair Technicians, •All types of Washing and Cleaning of Containers